Auckland Council has released a video and information on the Midtown programme. It takes a coordinated approach to the redevelopment of the midtown of the city centre over the next five years, with many projects planned to be completed to time with the opening of the City Rail Link.
Te Hā Noa (Victoria Linear Park) project, the Wellesley Street upgrade and a plan for High Street are all included, and the projects outlined have all be signalled in the City Centre Masterplan. Funding from the city centre targeted rate will contribute to some of the $133M programme cost. This investment presents a significant opportunity for this part of the city centre.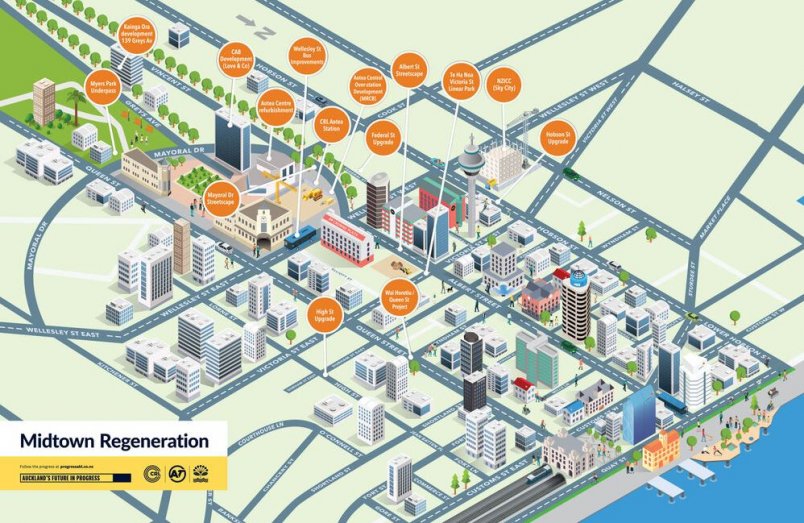 It is positive that Council is taking a coordinated approach to the Midtown Programme (as they did with the Downtown Programme). Rather than taking a street by street approach, vital needs for businesses operations will be considered on a wider area basis. We have highlighted access, servicing and loading as being critical to maintaining a vibrant and functional heart of the city. In response, Council has committed to developing a midtown servicing and loading plan.
This investment will be a positive catalyst for private sector investment in this part of the city, however the planned construction also presents a challenge for the city and businesses. For this programme to be successful, it is critical to resolve the operational needs of businesses and have an effective plan in place to manage disruption on businesses.

We know that the announcement of yet more construction will create concern for some businesses. While many of these projects have been long signalled, they may not be well understood. The construction of streets such as Wellesley Street (between Albert Street and Queen Street) and Te Ha Noa (between Albert Street and Kitchener Street) is scheduled for around 2023.

This means that there is time to plan how construction can be mitigated to minimise its impact on businesses.
Consultation processs
Public engagement will begin in early October on the Wellesley Street and Te Hā Noa projects. Council will be connecting with businesses in the immediate area directly so they can share what is being planned and answer any questions businesses may have about the projects.

Find out more
A midtown video is available on the Progress AKL website. A video about Te Hā Noa Victoria Street linear park and Wellesley Street Bus Improvements is available here.