Take part in City of Colour 6 - 22 May 2022
City of Colour is a new initiative coming to the city centre this May. It will showcase over 50 vibrant art and lighting installations across the city centre and K' Road - forming an immersive trail to encourage people to come back into and rediscover the city centre - at all times of the day and night. It is kick-starting a programme of initiatives over the coming months to support our city centre recovery plan.

City of Colour is a partnership with Auckland Council and other major city centre stakeholders, and runs between 6 – 22 May, with a marketing campaign kicking off at the end of April. The art and installation trail has been co-curated by award-winning designer Angus Muir and Auckland Council's city centre place activation principal Barbara Holloway.

Installations will be located all around the heart of the city - including the Viaduct, Britomart, Te Komititanga, Aotea Square, Vulcan Lane, Freyberg Square, Fort Street as well as Queen Street and more. Significant buildings and city centre landmarks will also be lit up to add to the atmosphere - including the Town Hall, The Civic, Sky Tower, Vector Lights on the Harbour Bridge, Lightship on Bledisloe Wharf and more. There will also be street banners promoting the event from Mid-April.
To help grow the impact of City of Colour, we've got several ways that businesses and city centre properties can get involved:
Displaying a City of Colour decal (at no cost)
We're offering all customer-facing businesses a City of Colour decal at no cost to put up in your windows. We're still finalising the design, but it's going to be based on City of Colour pole banners that will be installed along Queen Street and other areas on 11 April. An artist's impression of what the decals will be based off of is below.

Registrations have now closed.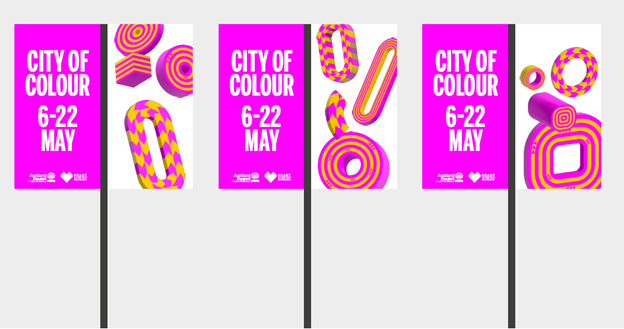 Lighting up your property or business from 6 May
Get involved in City of Colour by lighting your building, business, or office windows. It doesn't have to be complicated– simply changing the colour of your lightbulbs or adding fairy lights can be impactful. Alternatively, it could be a pattern of lights using offices/windows– or any lighting that can be introduced at ground level.

More information is available here.

If you're interested in participating, please get in touch with us to discuss at info@hotcity.co.nz.

Sharing the word about City of Colour to your customers from 29 April
Our marketing campaign will go live from 29 April. We will distribute some digital marketing assets for you to share across your channels and let your customers know what a great place the city centre will be in May.

Get in touch with new ideas or any questions
If you've got another idea about how you'd like to get involved in City of Colour or have any questions, please get in touch via email or call on 09 379 8000.