Te Hā Noa Victoria Street Linear Park - Investigation works for underground services April to May 2022
Communications from Auckland Transport:
This provides notification of exploratory works in April and May 2022 to locate underground services, such as electricity, gas, and communications, in Victoria Street between Elliott Street and Kitchener Street (see the map below).
JFC will be undertaking the work and a stakeholder manager has been assigned to the project and will be contacting properties within the project area.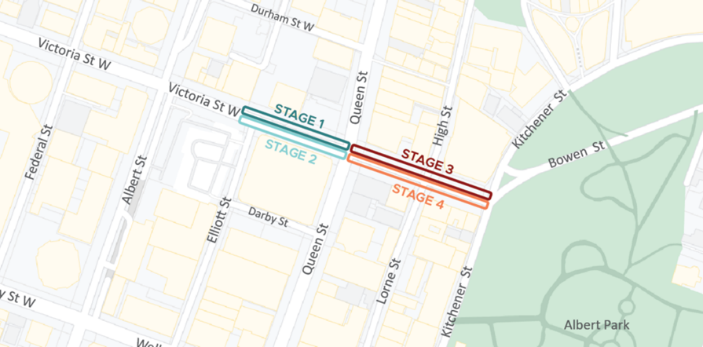 These exploratory works will help in the design and planning for stage one of Te Hā Noa between Albert Street and Kitchener Street, which is expected to get underway in 2023.
Resource consents for stage one of Te Hā Noa were submitted in February 2022 following a joint public engagement last year with the Wellesley Street Bus Improvements project. You can view the feedback at AK Have Your Say.
What are exploratory works?
Through early identification of underground services, decisions around the construction methodology and design can be incorporated into the Te Hā Noa detailed plans. This helps to reduce the risk of unexpected delays during future construction.
The exploratory works in April and May will involve some excavation in the road and the footpath and will be undertaken in four stages. Traffic management and wayfinding for pedestrians will be in place. Access to properties will be maintained.
Further information
More detail will be provided prior to works starting, and this will outline the impacts, how these will be managed, hours of work, traffic management, and how the work will be undertaken.
Information will be posted on the ProgressAKL website and if you have queries about the construction, you can contact JFC's Stakeholder Manager Cherie Armer at 021 420 108 or Cherie.armer@jfcltd.co.nz.