The value of the city centre for business
Auckland's city centre is at the heart of our economy, generating around 17% of Auckland's GDP and 7% of New Zealand's. With low commercial vacancy rates and more people working here, it's apparent this is where businesses - and their staff and clients - want to be.
So how does being located here benefit business? Critically, it is about proximity or agglomeration - businesses can literally bump into their clients and collaborators here. Sometimes referred to as a knowledge spillover, these face-to-face connections are enabled by a dense and compact city centre – and they help drive business productivity.
Businesses are also choosing to locate here because it's an increasingly attractive and vibrant place to be. A council-led programme that began well over a decade ago, including the development of new shared spaces such as Fort Street, Elliott Street and O'Connell Street, and the Wynyard Quarter redevelopment has been a catalyst for its evolution.
It's vital that we continue to have this kind of ongoing investment for new public spaces and public transport infrastructure. $4 billion has been earmarked for the next ten years, with a planned $300 million for public transformation projects to be completed in time for the America's Cup in 2021. With a focus on walking-friendly streets and public spaces, we know that this investment will also increase economic productivity. A recent report1 showed that a 1% increase in walkable connections could increase the productivity of the city centre by $42 million a year – so investment in public spaces is good for business.
A thriving commercial sector also plays an important role in the retention and success of retail and hospitality businesses. Growing numbers of workers in the city centre, up by 3.8% in 2016, means more footfall and opportunities for spending at the city's many shops, cafes, restaurants and bars. One of the outcomes of this is our sustained year on year growth in retail spend.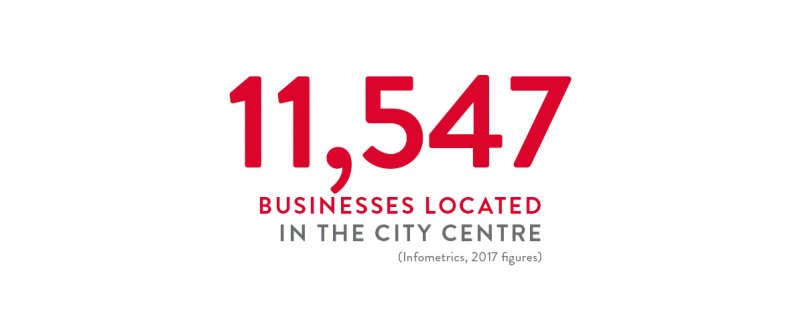 As a business association wanting to ensure the broad economic prosperity of the city centre, we're focusing on maintaining its position as the place where businesses want to be located. We advocate for a well-functioning and accessible city and support ongoing public and private investment in the area. We also represent business on the investment of a City Centre Targeted Rate, which provides $20 million a year for improving our public spaces and streets. Our sights are firmly set on a vibrant city centre where business can succeed.
1. 'Business Case for Walking: Investigating the Economic Value of Walking in the Auckland City Centre'