Heart of the City brings snippets of city centre life to light along Queen Street
Time spent relaxing in Albert Park, texts between friends about a night on the town and a 1960s vision of the City Rail Link are some of the inspirations for new writing Heart of the City has put on display along Queen Street.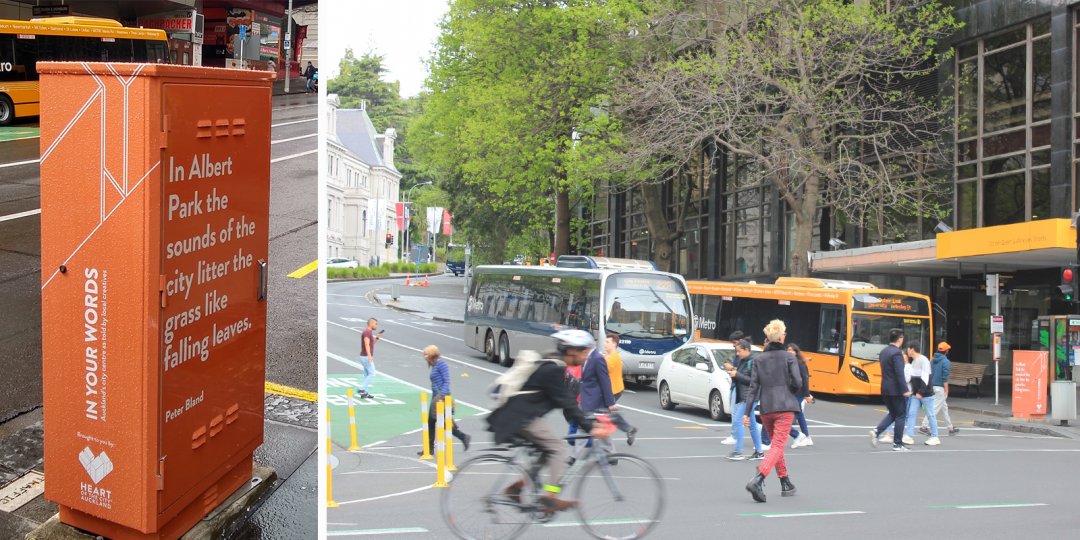 The seven pieces installed for the In Your Words project were selected from hundreds of submissions from acclaimed poets and everyday Aucklanders, in response to the brief asking them to say something thoughtful, beautiful, personal or funny about Auckland's city centre.
Heart of the City's Viv Beck says it's always rewarding to bring creativity to light in the city centre's dynamic heart.
"Through In Your Words, we're reminded of the past, present and future stories of our city centre – we're delighted to put some of our local writers and their words on show where thousands of people can enjoy them every day."
Unity Books bookseller and poet Hera Lindsay Bird joined Heart of the City to select the winners and was drawn to the variety of different viewpoints and stories shared - from fun with friends like in Cedric Tevaga's piece, taking public stances in protest like Kirsty Smith's and sitting back and enjoying nature right in the middle of things like Peter Bland's.
Another of the writers, Miriam Moore, says she wanted to encourage people to stop and take in their surroundings. "If you don't have a favourite building (or artwork) on Queen Street you're not looking hard enough!"
For the months ahead, there are now seven new reasons to pause and reflect: the In Your Words installations can be seen on utility boxes at intersections along Queen Street.
In Your Words pieces on display now in the Queen Street area
Upto uce? Keen to hit up town?
Yooza! Where abouts dox?
Seki, meet by the Waharoa?
Leshgooo, see you there!
Cedric Tevaga
Corner Mayoral Drive and Queen Street
Our future's forming
out of old dreams:
I swear I saw
Robbie's eyes gleam.
Elizabeth Kirkby-McLeod
At Queen Street side of Aotea Square
In Albert Park
the sounds of the city
litter the grass
like falling leaves.
Peter Bland
Corner Wellesley and Queen Streets
Where every street is (yass) Queen Street
Anonymous
Corner Victoria and Queen Streets
It can be surprising how beautiful the architectural detail is above the awnings. Simply cross the road and look up.
Miriam Moore
Corner Wyndham and Queen Streets
Together we have the power to be heard by the world. That starts here.
Kirsty Smith
Corner Shortland and Queen Streets
Take time, listen to the Waihorotiu valley.
Its heart beats louder than earthworks,
Swells larger than a ribcage of cranes.
Michael Andrew
Corner Customs and Queen Streets