New Years Eve road closures 2019
This New Year's Eve, some roads in the city centre will be closed (and some will have managed access) between 10pm on 31 December and 2am on 1 January 2020 for the safety of those who will celebrate the turn of the decade in the heart of the city.
There are more people living in the city centre than ever before, and it is clear from previous years that the city precinct is a popular choice for locals and visitors to see in the new year.
Last year, Auckland Transport reported that there was heavy vehicle congestion in the city centre on the night and this year's road closures are in place to ensure the safety of pedestrians.
Details on the road closures, including managed access roads, recommended drop off/pick up taxi points, and public transport information can be found below. Updates can also be found on the AT website.
Promotion of these closures and the festivities going on in the city centre will be shared on a range of city-wide channels leading up to NYE.
ATEED thanks you for your support and cooperation during this event. If you require further information, please contact majorevents@aucklandnz.com.
Road closure information
Closure begins: 10pm, 31 December 2019
Road closure ends: 2am, 1 January 2020
Roads closed
Federal St, from Wellesley St to Victoria St
Hobson St, from Wyndham St to Wellesley St
Albert St, from Wyndham St to Wellesley St
Wellesley St, from Nelson St to Kitchener St
Victoria St, from Nelson St to Kitchener St
Elliot Street, from Victoria St to Wellesley St
Queen St, from Customs St to Rutland St
Shortland St, from Fields Lane to Queen St
Bowen Avenue, from Princes St to Kitchener St
Wyndham St, from Hobson St to Queen St
Managed access roads (meaning people can get access if they need to)
High St, from Shortland St to Lorne St
Kitchener St, from Princes St to Wellesley St
Lorne Street
Rutland St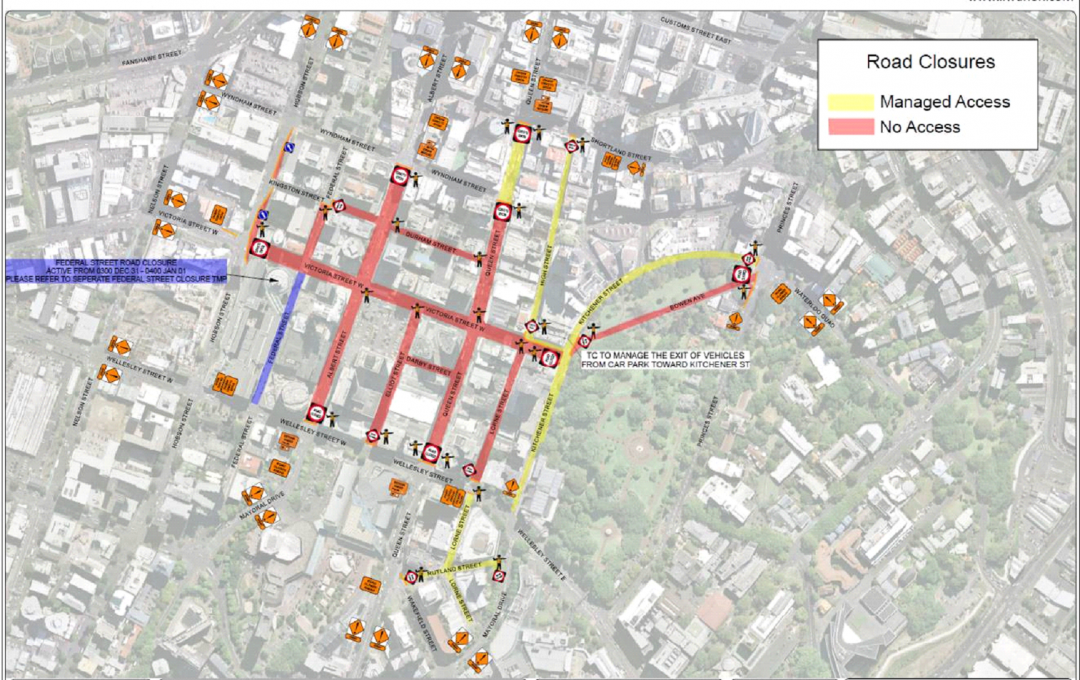 Road closure management
Road blocks will be put in place and managed by Evolution Traffic Management Limited. Auckland Council group – including Auckland Transport, Auckland Tourism, Events and Economic Development (ATEED) – and the New Zealand Police are working to ensure this event is managed in a safe and professional manner.
Parking restrictions
Cars parked on these streets must wait until 2am until they can exit. Cars parked within car parks on these streets must wait until 2am until they can exit. Auckland Transport car parking lots will be open 24 hours over New Year's Eve.
Access
Residents who need to urgently leave the area should alert a traffic manager onsite, recognisable by their vests, who will assist. General queries on the night should go to the AT call centre: 09 355 3553.
Car drop off/pick up zones
People going to / leaving a destination on a road that will be closed should arrange to be picked up / dropped off on the following roads: Wyndham Street, Hobson Street, Wellesley Street West, and Shortland Street.
Updated public transport information
Auckland Transport is encouraging the public to plan their travel, using public transport where possible.
There will be additional bus, train and ferry services after midnight. Normal fees apply. Bus services will be diverted, and different stops will be used. Visit the AT website for full details of New Years Eve public transport services.