Wellesley Street & Victoria Street intersection closure switch
Link Alliance has confirmed that an intersection closure switch will take place in June 2021 to allow construction to continue for Aotea Station.

The switch will involve reopening Wellesley Street West, and then temporarily closing the Victoria Street and Albert Street intersection to vehicles. The intersection will always remain open to pedestrians. The reopening of Wellesley Street West is slightly later than anticipated due to effect of Covid-19 lockdowns on construction.

The closure of the Victoria Street West and Albert Street intersection will have new impacts for our neighbours and users of the intersection, and the Link Alliance remains committed to minimising disruption and providing support to all those affected.

The Victoria Street / Albert Street intersection will be closed to vehicles until mid-2023, with the exact timing of the reopening to be confirmed following coordination with Auckland Council's Te Hā Noa Linear Park project. This timing will also coincide with the streetscape and urban realm improvements for the intersection.

Mayoral Drive near Wellesley Street West will remain closed to vehicles until Aotea Station construction is complete in 2024.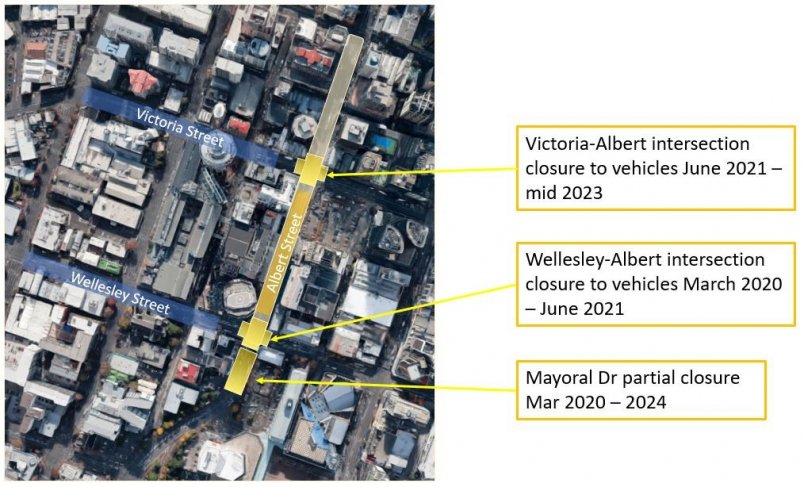 How the switch will happen
Wellesley Street West will reopen to vehicles a few days before Victoria Street West closes to allow vehicles to adjust their journeys ahead of the closure of the Victoria Street West / Albert Street intersection. Further detail about the switch and the new closure will be publicised early next year.
Supporting neighbours in the area
A comprehensive Development Response plan is in place for the closure switch, and Link Alliance will seek feedback from the community later this year.
The Development Response plan will prioritise:
Responsive, clear and consistent engagement with neighbours, to prepare the community for the closure and provide business support.
A business-focused campaign to encourage consumer awareness and drive visitation.
Wayfinding, site cleanliness and tidiness, safety and accessibility.
Attractive hoardings and fence lines including public art.
A pop-up info-hub and activation space.
Site tours for the public to draw more people to the area.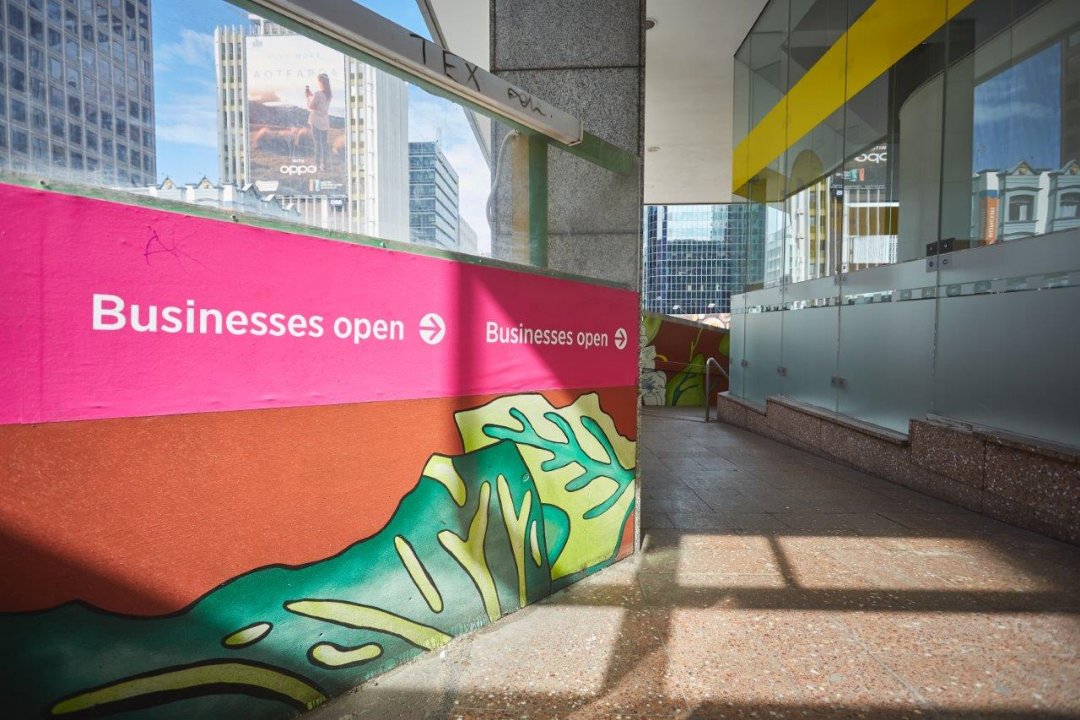 Access around the intersection closure
Access by foot will always be maintained to businesses and properties.
Temporary footpaths and wayfinding will be installed to ensure people are able to move with ease through the site.
Pedestrians still be able to use the intersection on foot, and cyclists will need to walk their wheels.
The Crowne Plaza service lane will remain open from Victoria Street for essential vehicles who access businesses in the area.
Temporary loading zones will be installed around the intersection closure to help businesses maintain on-time deliveries.
Auckland Transport bus changes
Most bus routes in the city centre will change due to the intersection closure switch, and many will be re-routed through Wellesley Street West once it has re-opened. These changes will be widely published through AT.govt.nz/BetterWay and other channels closer to the time.
The easiest way to reach the city centre will still be on public transport, by foot, bike, e-scooter or another sustainable travel method.