How it's going - impact and outcomes to date
More than 318 people have taken part in the Street Guardians programme since it began.

In 2020, it expanded from one to two days a week. This was achieved with support from the Ministry of Social Development (MSD). Extending the programme to two days has more than doubled the impact.
Participants include people who are begging in the city centre, who are currently homeless in and around the central area as well as those recently housed through Housing First. Up to 12 people on each day that the programme operates head out to work with a range of charity organisations to undertake activities such a wetland restoration, planting and sorting goods for sale.
The programme has been incredibly well received by both the participants and the community organisations involved. The initiative is so popular that many days are oversubscribed, with a waitlist in place.

The Street Guardians programme works in partnership with the Auckland City Mission, and others such as EcoMatters, Kaipatiki Forum and The Tipping Point, who say:

"We are consistently impressed with the team...the store looked remarkable by the end of the day. Customers and staff were all giving positive feedback. Thanks again for your help with this program, we are big fans."

Outcomes achieved since October 2018

Participation
More than 380 people have chosen to head out of the city for a day of activities helping the community rather than spending a day begging.
There have been 1,155 participations in the programme over this time
Expanded impact
Late in 2020, Street Guardians expanded to two days per week with support from the Ministry of Social Development (MSD). Along with doubling the impact, expansion has allowed more regular visits to our partners, strengthening of those connections between participants and charities.

Adding value and purpose

As a pathway to stable work
Street Guardians continues to prove its value to those who would otherwise be begging or being on the street, those setting out to help them, and community organisations. Participants have told us they feel a sense of purpose when they take part in the programme.

Participants make enquiries about CV help and pathways to work most weeks. Some have also made their way to employment as a step towards stable, long-term work. Two participants have recently found full-time work - now working on the construction site of Auckland City Mission's Homeground development.
We've also heard that another regular participant has been offered work with one of the community organisations involved with Street Guardians.

Provides positive personal impact

Less tangible, but equally as important is the personal impact Street Guardians has on people's lives. This has been reflected in the participants and community organisations involved with the project.
Community partners have reported seeing
Interest in learning new skills towards future work
Friendly and polite interactions with the public
Dedication to their work
Readiness to support others in the group and work as a team
​Interest in making an impact over time.

"One of the guys said he sees these days as an opportunity to get 'his mind and body ready for work'. He reckons that after so long of having no routines or proper activity, training himself up is an important step." - A community organisation involved with Street Guardians

In participants own words:

"Getting back into work and doing skills, learning, developing skills that we already have, and your development is the best thing. And, better understanding what people's skills are and seeing what they're good at so maybe they could do more about it. Such as if you like outdoor work can you do that and show it on your CV. We could get Worksafe certifications." – Kevin
"I haven't been happy like this for a long time, and I love it." - Street Guardian Participant

"Learning how to work in the community again, being with the whānau, and our community. It's awesome doing the mahi and gardening is massive for the body." - Richard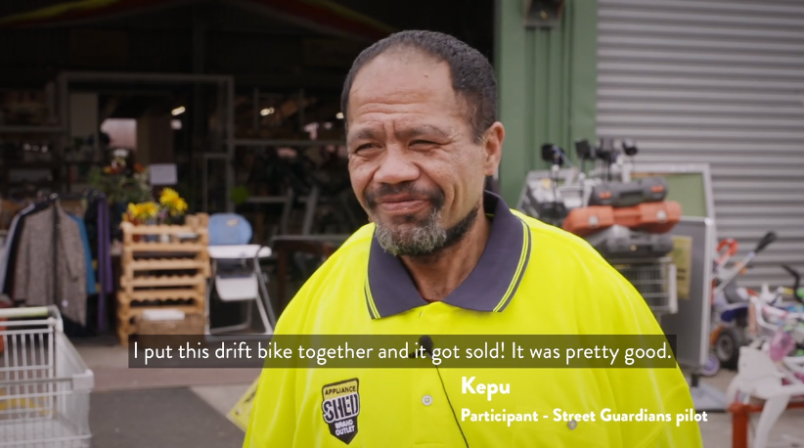 Media coverage:
Auckland's Heart of the City initiative helps homeless find their way
-Seven Sharp