America's Cup racing 17 - 20 Dec: event and access information
From Thursday 17 - Sunday 20 December, the waterfront will be buzzing with the first racing for the 36th America's Cup taking place, which gives people a chance to see all of the teams racing each other. We're encouraging Aucklanders to get out and about in the city centre to experience the sailing fun combined with the festive atmosphere of the last Friday before Christmas - take a look at our wrap up for the public here.
The Race Village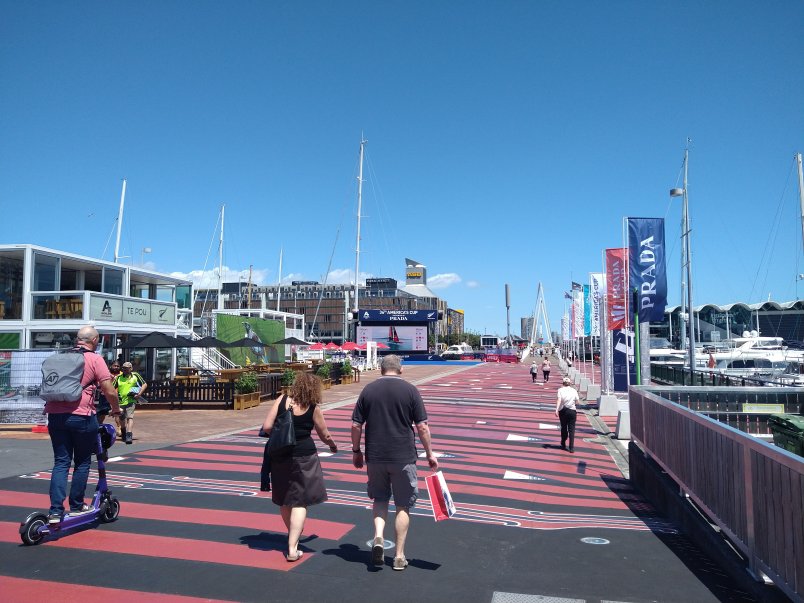 Open from Tuesday and free to enter, the America's Cup Race Village is where viewers can watch the boats going in and out, catch the action on the big screen or take in the event atmosphere. The Village has a limited visitor capacity so entry may be managed.
Where: It runs from Hobson's Wharf across the Eastern and Western Viaduct up to the Jellicoe Car Park. Download the Race Village map here.
When: Open 9am until 11pm on racing days and from 10am until 10pm on non racing days.
What: Big screens showing the racing, live entertainment, merchandise stalls, an AC75 simulator, bars and other activations.
Racing details
Racing will take place between 3pm and 6pm each day, with current America's Cup Defender Emirates Team New Zealand, the Challenger of Record Luna Rossa Prada Pirelli Team, INEOS TEAM UK and New York Yacht Club American Magic all taking to the water.
17 - 19 Dec: America's Cup World Series
Four races per day of round robin competition, with the first race pitting Emirates Team New Zealand against Luna Rossa Prada Pirelli Team. See the race format here.
20 Dec: PRADA Christmas Race
Two knock out stages, with the winners of two head to head match ups progressing to the final and the losers to a 3rd and 4th match.
What's on across the city centre
Summer in the Square, Aotea Square
Races on the big screen, interactive art, live entertainment including a free Melodownz performance on 19 December, and more. See more here.
Race viewing with city centre businesses
See the action from on the water with Explore NZ or watch at official supporters venues Wynyard Pavilion for Emirates Team New Zealand or The Conservatory for Ineos Team UK. See more here.
Christmas markets
The evening of Thursday 17th brings markets to Ellen Melville Centre and Victoria Park Market - perfect for some last minute gift shopping
Explore newly transformed city centre spaces
On Friday 18th, Te Komititanga, the new public square at the lower end of Queen Street, is being officially opened. Be one of the first to enjoy this new space, and while you're there, take a stroll through the recently revamped Galway Street and check out the rapidly progressing Downtown Programme works.
And of course there is plenty of shopping and dining and other events too. Visit here to find out more.
Getting into and around the city centre
To allow the America's Cup event activity to run smoothly, access changes will be in place - key points are outlined below. It's important to note that people and deliveries will still be able to get where they need to and that it pays to plan ahead so you're aware of any changes.
Click here to see Auckland Transport's map showing access changes.
Road closures 17 – 20 December
Wynyard Quarter roads will close to vehicle traffic around 11am and reopen late in the evening
Viaduct Harbour, Lower Hobson, Lower Albert, Quay St and Britomart area roads close to vehicle traffic around 1pm and reopen around 8pm
Parking on race days
Parking permits for off street car parks
Vehicle Permits will allow vehicles to pass through managed road closures and access offstreet parks. They are valid from December 2020 to March 2021. If you don't have a permit already and need one:

If you have a building manager or body corporate, check what the plan for your building is and if they have a parking permit for you.
Email americascup@at.govt.nz with the number of permits that you require
Commercial car parking buildings
Access to existing carparks within the city centre, Viaduct Harbour, Wynyard Quarter, Princes Wharf, downtown and Britomart area will be maintained, however there may be detours in place and you should plan for delays.
Planning ahead for deliveries
It is best to schedule deliveries, pick-ups/drop-offs before the roads are closed, or after roads are reopened. Any pick-ups or deliveries that need to be made during the road closure times will need to be made outside of the closures.
Princes and Queens Wharf access
Vehicle Permits are not required for Princes Wharf / Queens Wharf businesses, apartment tenants or customers as the wharves will still have all-day access.
Princes Wharf access on race days will be via the Hobson Street flyover bridge
Queens Wharf access on race days will be via Quay Street (westbound).
Taxis and ride share
Two dedicated rideshare and taxi ranks will be in operation between 17 – 20 December at the following locations:
Viaduct Harbour Avenue near the Sofitel Hotel
Customs Street West, near Sierra Café
Taxis and rideshare vehicles will be permitted to enter the closures without a Vehicle Permit with access managed by on-the-ground staff. There will be signage to help navigate people to these locations.
Buses, trains and ferries
AT are running extra bus, train and ferry services to help get everyone in and out of the area easily.
Buses
Temporary bus stop changes apply on race days - replacement stops will be a short walk away and signage will be placed at existing stops to help direct people. Find out more here.

Wynyard Quarter - City Link, 75, 20
Lower Albert Street - 95B, 95C, 95G, 97B, 97R, 97V
Tamaki Drive – 95, 97

Ferries
Journeys will take longer due to speed restrictions on the water and some schedule changes are in place. Find out more here.
Bikes and e-scooters
Free valet bike and e-scooter parking will be available on race days from 2pm to 8pm at the Jellicoe Street carpark and Hobson Street overbridge. AT staff will look after your bike while you check out the action on the water and will have maps, information and support for people on wheels. Outside of key race times, bike and e-scooter parking (not a valet service) will still be available onsite.
Planning journeys in advance
While the event is underway and access changes are in place it pays to plan your travel in advance. You can use the Journey Planner function in the AT Mobile App or at www.AT.govt.nz/americascup
Emergency services
Emergency services will still be able to get through road closures.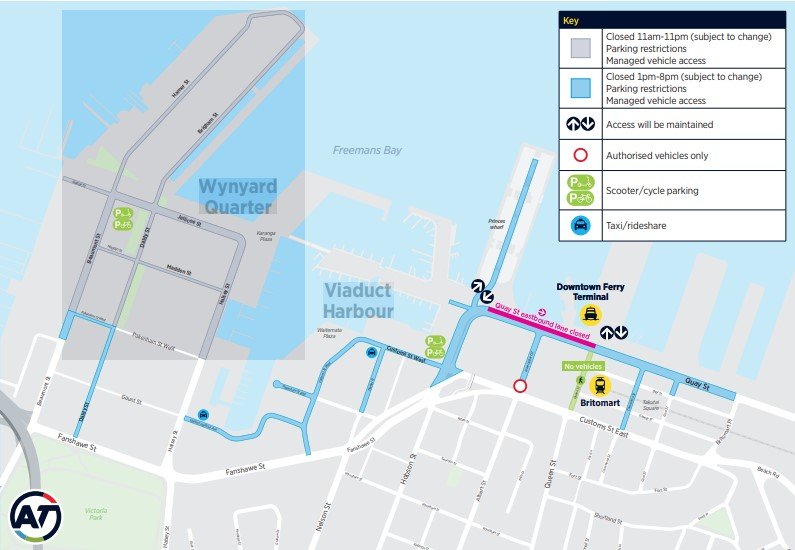 For more information or any questions
Planning is still underway for the January - March AC36 events; more information will be provided once it is available
For information about the races and event information for businesses:
Go to aucklandnz.com/36th-americas-cup
For more access information go to at.govt.nz/americascup, use AT's Journey Planner or call AT on 09 355 3553
Please don't hesitate to send us an email or give us a call on 09 379 8000 if you have any questions or need any more information to prepare for the coming events.
Reminder: AC36 key dates from December - March
15 December: America's Cup World Series Race Village opens
17 - 20 December: America's Cup World Series
15 Jan - 22 Feb: The PRADA Cup
6 - 21 March: The 36th America's Cup Match