Victoria and Albert Street intersection closing for next stage of CRL works: 29 June 2021
To allow the next stage of CRL works to take place, including construction of Aotea Station, there are some significant changes for access around this area of the city.
The Victoria/Albert Street intersection will be closed from Tuesday 29 June until around mid-2023, with traffic diversions in place. Access will remain at all times for people on foot.
Two days ahead of the closure, on Sunday 27 June, the Wellesley/Albert Street intersection will reopen but with changes to the road layout between Queen and Albert Streets:

Westbound (heading away from Queen Street), only buses have access
Eastbound (heading towards Queen Street), buses and general traffic have access

A number of city centre bus stops and routes will change.
Temporary loading zones will be installed around the site for deliveries.
Buses
Many bus routes are changing to use Wellesley Street instead of Victoria Street, with Wellesley Street becoming the main east-west bus corridor through the city centre.
Affected services: OuterLink, InnerLink, NX2, 75, 82, 101, 22A, 22 R, 22N, 24B, 24R, 24W, 802, 923, 18, 110, 125X, 129, 192, 209
Supporting businesses in the area through Development Response
Link Alliance have developed a Development Response Plan - see more here on the City Rail Link website - includes measures to support business operations and to draw positive attention to businesses and the area with marketing and on street installations and activations.
Regular community forums are also held - If you would like to attend, please contact the Link Alliance Aotea Station team by calling 0800 CRL TALK (275 8255), option 3 or by emailing Aotea@linkalliance.co.nz
Link Alliance have advised the folllowing information for businesses:
Business operations: access, loading, rubbish and safety
Access to all businesses will be maintained during construction. Link Alliance will be in touch directly with businesses in the affected area to advise on changes to loading areas (these are marked in the map below) and rubbish pick-up points.
Clear line of sight to businesses and key community landmarks will be prioritised, with mesh fencing and the installation of perspex windows in construction hoardings. Lighting will be installed throughout the construction site to ensure the site is safe and inviting for people using the space at all times.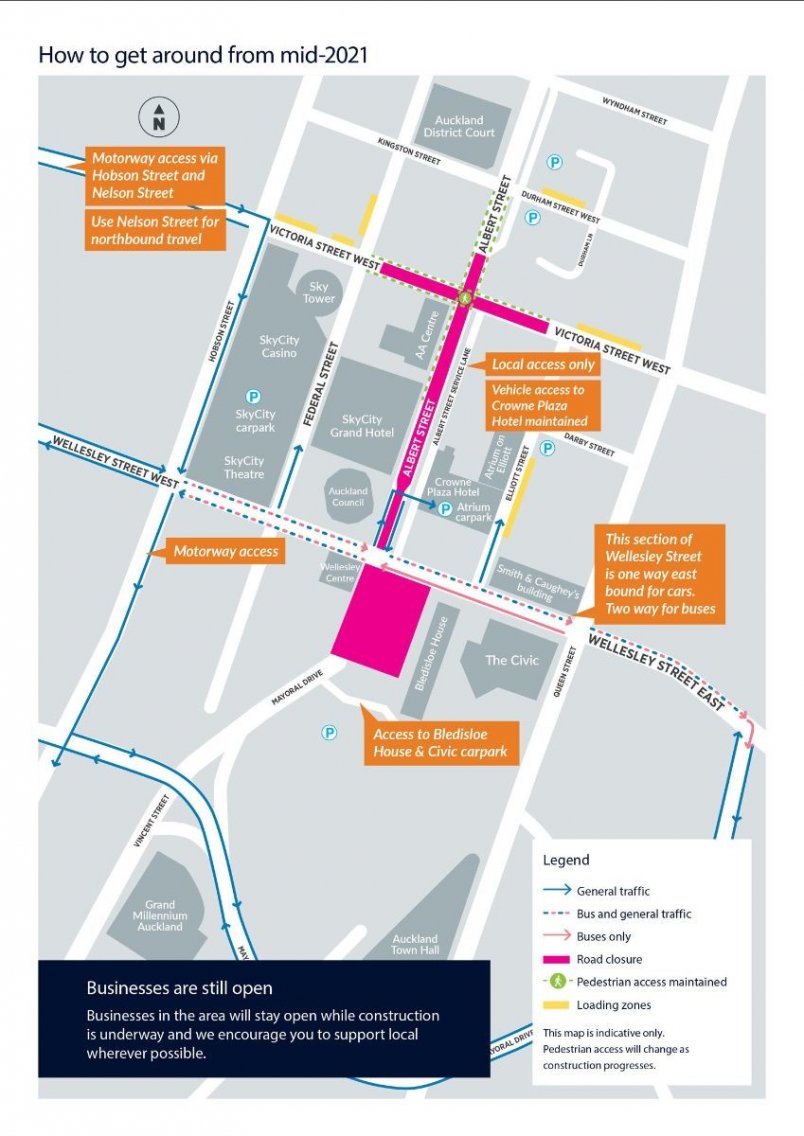 Business support progamme
The Link Alliance has developed a new Small Business Support Programme for businesses in the Aotea Station and Karangahape Station communities. More information about this is available here.
Marketing and activations
Link Alliance will work with businesses to design and deliver hoardings which emphasise that businesses are still operating and accessible. Where needed, there will be additional temporary signage to further emphasise that it is business as usual.
Activations are planned with the aim of enhancing the attractiveness of the neighbourhood, encouraging visitation to the area.
Aotea Station's visitor information centre will be relocated from Wellesley Street West to Victoria Street for the duration of the road closure.
For more information